Sophos SG 105
With bandwidth requirements constantly increasing, network security appliances need to do more than ever before. The Sophos SG Series appliances are built to provide optimal performance, versatility and efficiency to meet all your security needs.
The Sophos SG Series appliances are designed to provide the optimal balance between performance and protection – for diverse IT environments. Whether you need a solution for a small remote office, want to protect your school campus, or are a global organization requiring high-availability and enterprise-grade features, our SG Series appliances are an ideal fit.
Versatile
Appliances to suit every environment
Our broad product line-up makes it easy for you to choose the right appliance. A higher model number indicates higher throughput and an increased number of ports or connectivity options.
And as every software subscription is available on every appliance, you can flexibly size the solution to fit your budget and your individual security needs. Next-generation firewall features or all-in-one security on a single box, it's your choice.
Rapid
Proven performance on all models
Our appliances are built upon the most advanced Intel technology. Optimized use of multi-core processors allows consolidation of your security solutions without a performance trade-off.
With faster than ever firewall, IPS and VPN throughput, our SG Series appliances effortlessly handle multiple tasks simultaneously. Plus, you can easily scale up by dynamically clustering up to 10 units without external load balancers.
Responsive
Technology built to process data in real-time
Your network is constantly changing so your protection needs to be adaptive. All our appliances have integrated high-speed hard drives (in many cases SSDs) for local storage of spam quarantine data and faster access to comprehensive reports and real-time logs.
Accelerated in-memory content scanning in secure proxy mode makes your defenses more effective and efficient.
Reliable
Engineered for business – today and tomorrow
Using the latest Intel technology, our products provide the utmost in flexibility. Add to your protection as you need it – without changing or upgrading your hardware. That means you benefit from future software and performance enhancements which guarantees the best possible value for money.
Redundancy features such as an additional hard-drive or power supply are available on the 1U SG 450 and on both of our 2U appliances.
Modular
Flexible configuration options on many models
Configure your hardware to suit your infrastructure and change it as and when you need to. Our optional FleXi Port LAN modules give you the freedom to select the connectivity you need – copper, fiber, 10GbE – you decide.
FleXi Port modules are interchangeable within a range, e.g. 1U, so, for example, you can use the same module with all of your 1U appliances which saves you money if you upgrade to a higher model at a later date.
Connected
Full wireless coverage – for every office
Our SG 100 Series desktop models with integrated wireless are a very tidy solution for even the most compact office space. As the access point is built in, you do not require any extra hardware. Should you need additional coverage or have a larger space, you can add Sophos access points.
Every one of our appliances has a built-in wireless controller for you to connect Sophos access points and manage them simply from your central management console.
Sophos SG 105 Spesification
These desktop firewall appliances offer an excellent price-to-performance ratio making them ideal for budget-conscious small businesses or branch offices. They are available with or without integrated wireless LAN, so you can even have an all-in-one network security and hotspot solution without the need for additional hardware. Of course, you can also add external access points. With Intel multi-core technology designed for best performance and efficiency in a small form factor, these models come equipped with 4 GbE copper ports built-in. You can choose between our lower cost BasicGuard subscription; select the software modules of your choice; or choose FullGuard for the full set of security features.
SG Series Appliances: SG 105, SG 105w, SG 115, SG 115w
Front View
Performance
SG 105(w)
SG 115(w)
Firewall throughput
1.5 Gbps
2.3 Gbps
VPN throughput
325 Mbps
425 Mbps
IPS throughput
350 Mbps
500 Mbps
Antivirus throughput (proxy)
90 Mbps
120 Mbps
Concurrent connections
1,000,000
1,000,000
New connections/sec
15,000
15,000
Maximum licensed users
unrestricted
unrestricted
Wireless Specification (SG 105w & SG 115w only)
No. of antennas
3 external
3 external
MIMO capabilities
3 x 3:3
3 x 3:3
Wireless interface
802.11a/b/g/n (2.4 GHz / 5 GHz)
802.11a/b/g/n (2.4 GHz / 5 GHz)
Back View
Physical interfaces
Hard drive (local quarantine/logs)
integrated HDD
integrated HDD
Ethernet interfaces (fixed)
4 GE copper
4 GE copper
I/O ports
2 x USB 2.0
1 x COM (RJ45)
1 x VGA
2 x USB 2.0
1 x COM (RJ45)
1 x VGA
Power supply
External auto ranging DC: 12V, 100-240VAC, 50-60 Hz
External auto ranging DC: 12V, 100-240VAC, 50-60 Hz
Physical specifications
Environment
Mounting
Rackmount kit available
(to be ordered separately)
Power consumption
4.83W, 16.468 BTU/hr (idle)
9.84W, 33.55 BTU/hr (full load)
Dimensions
Width x Depth x Height
225 x 150 x 44 mm
8.86 x 5.91 x 1.73 inches
Operating temperature
0-40°C (operating)
-20 to +80°C (storage)
Weight
1.19 kg / 2.62 lbs (unpacked)
2.185 kg / 4.82 lbs (packed)
Humidity
10%-90%, non-condensing
Safety Certifications
Certifications
CE, FCC Class B, CB, VCCI, C-Tick, UL, CCC
Sophos SG 105 Deployment
These desktop firewalls offer exceptional performance for models in this class and are available with the same broad set of security features as all our other appliances. The following diagrams show typical deployments in this range using both integrated wireless LAN and external access points.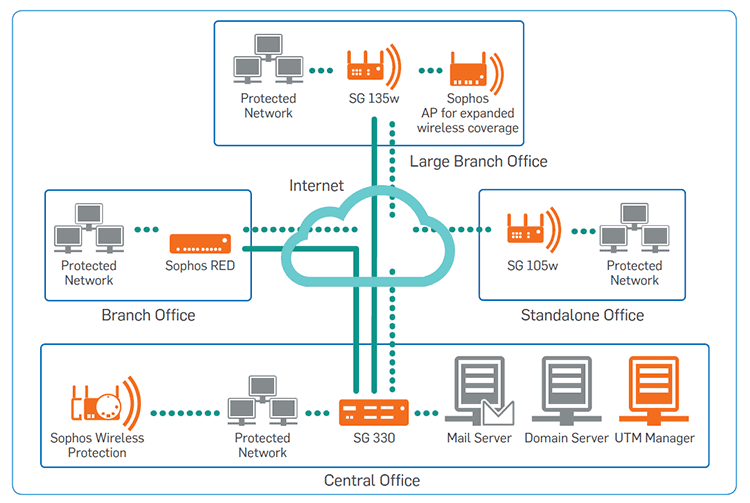 Sophos SG 105 Spesification
This is what you get with every Sophos SG Series firewall:
The latest Intel multi-core technology for optimal performance and efficiency
The same security features available on every size of appliance
Built-in HDD or SSD as storage for local quarantine data, logs and reporting
FleXi Port modules available for all 1U and 2U appliances (interchangeable within a range, e.g. 1U)
Free Sophos UTM Manager (SUM) to manage multiple appliances
Possibility to dynamically cluster up to 10 appliances of the same kind – without external load balancers
Model
Tech. Specs
Throughput
Form Factor
Maximum Ports (GE)
WiFi (optional)
Storage
RAM
Firewall
VPN
IPS
AV-Proxy
SG 105(w)
Desktop
4
802.11 a/b/g/n
320 GB
2 GB
1.5 Gbps
325 Mbps
350 Mbps
90 Mbps
SG 115(w)
Desktop
4
802.11 a/b/g/n
320 GB
4 GB
2.3 Gbps
425 Mbps
500 Mbps
120 Mbps
SG 125(w)
Desktop
8
802.11 a/b/g/n/ac
320 GB
4 GB
3.1 Gbps
500 Mbps
750 Mbps
200 Mbps
SG 135(w)
Desktop
8
802.11 a/b/g/n/ac
320 GB
6 GB
6 Gbps
1 Gbps
1.5 Gbps
350 Mbps
SG 210
1U
14 (6 + 1 module)
n/a
320 GB
8 GB
11 Gbps
1 Gbps
2 Gbps
500 Mbps
SG 230
1U
14 (6 + 1 module)
n/a
120 GB SSD
8 GB
13 Gbps
2 Gbps
3 Gbps
800 Mbps
SG 310
1U
18 (8 + 2SFP + 1 module)
n/a
180 GB SSD
12 GB
17 Gbps
3 Gbps
5 Gbps
1.2 Gbps
SG 330
1U
18 (8 + 2SFP + 1 module)
n/a
180 GB SSD
12 GB
20 Gbps
4 Gbps
6 Gbps
1.5 Gbps
SG 430
1U
24 (8 + 2 modules)
n/a
240 GB SSD
16 GB
25 Gbps
4 Gbps
7 Gbps
2 Gbps
SG 450
1U
24 (8 + 2 modules)
n/a
2*240 GB SSD (RAID-1)
16 GB
27 Gbps
5 Gbps
8 Gbps
2.5 Gbps
SG 550
2U
24 (8 + 2 modules)
n/a
2*300 GB SSD (RAID-1)
24 GB
40 Gbps
8 Gbps
12 Gbps
3.5 Gbps
SG 650
2U
24 (8 + 3 modules)
n/a
2*480 GB SSD (RAID-1)
48 GB
60 Gbps
10 Gbps
16 Gbps
5 Gbps
The SG 450 includes an optional swappable power supply
The SG 550 and SG 650 include swappable power supplies and swappable SSD drives