Harga Barracuda Firewall X100
Harga Price List : Rp 27.300.000,-
Harga Spesial : (REQUEST QUOTE)
Harga di atas mencakup komponen:
♦ Barracuda Firewall X100 Hardware Appliance
♦ Energize Update (EU) License – 1 Year
♦ Instant Replacement (IR) License – 1 Year

Penjelasan Singkat Produk Barracuda Firewall X100
Next-generation perimeter security
Optimize multiple WAN links
User visibility and application awareness
Cloud-based content filtering, malware protection, and reporting
High-Performance IDS/IPS
Secure VPN with clients for Windows, Mac, and Linux
Barracuda Firewall menyediakan semua fungsi user identity dan fungsi next-generation application control ke dalam solusi yang mudah digunakan dan terjangkau. Tidak seperti firewall dan UTM tradisional yang ada, Barracuda Firewall menggunakan pendekatan teknologi terbaru yaitu dengan mengintegrasikan perangkat next-generation firewall dengan sistem cloud content security. Sistem cloud memampukan Barracuda Firewall untuk mengerjakan fungsi – fungsi security gateway seperti virus scanning, content filtering, dan reporting, bahkan fungsi – fungsi tersebut dapat dilakukan secara bersamaan ketika Barracuda Firewall mengerjakan tugas – tugas sesitif seperti packet forwarding & routing, layer-7 application control, intrusion prevention (IPS), DNS/DHCP services, dan VPN connectivity.
Barracuda firewall menawarkan investasi yang sangat terjangkau karena memilki model harga yang simple dengan memasukan semua komponen produk yang dibutuhkan seperti appliance, service modul, dan license yang dibutuhkan. Tidak ada "hidden cost" yang akan menjebak dan merugikan and sebagai pengguna.
Dengan mengkombinasikan berbagai keunggulan seperti teknologi yang kuat, kemudahan penggunaan, dan investasi yang terjangkau menjadikan Barracuda Firewall sangat ideal bagi semua karakter pengguna baik itu pengguna dengan level small-medium maupun pengguna enterprise.
Keuntungan Menggunakan Barracuda Firewall X100
Unlimited protected IPs
Unlimited site-to-site and client-to-site VPN licensing
Integrated cloud-based content filtering
Centralized management of all devices
Affordable, all-inclusive pricing
Easy-to-use web-based administration
Fitur Barracuda Firewall X100
Application Visibility and Control
The Barracuda Firewall X100 analyzes network traffic up to Layer 7, leveraging advanced fingerprints to identify applications and content traffic. Based on the fingerprints, a flexible set of actions, including allowing, blocking, resetting, and redirecting connection attempts and traffic can be defined. A library of hundreds of applications is currently fingerprinted. Furthermore, granular policies can be set for specific application features (e.g., limiting audio calls on Skype). These fingerprints are dynamically updated so that security policies and signatures remain up to date.
Active Connections and Real-Time Control
An insightful dashboard interface provides an overview of the active connections for a network. With this interface, real-time actions can also be taken. When resource-intensive applications are preventing business-critical activities like VoIP conference calls, administrators can take immediate action to either end a connection or regulate its bandwidth.
Intrusion Detection and Prevention (IPS)
The Barracuda Firewall X100 Intrusion Detection and Prevention System (IDS/IPS) strongly enhances network security by providing complete and comprehensive real-time network protection against thousands of network based threats, vulnerabilities, exploits, and exposures in operating systems, applications, and databases to prevent network attacks such as:
SQL injections and arbitrary code executions
Access control attempts and privilege escalations
Cross-Site Scripting and buffer overflows
Denial of Service (DoS) and Distributed Denial of Service (DDoS) attacks
Directory traversal and probing and scanning attempts
Backdoor attacks, Trojans, rootkits, viruses, worms, and spyware
By providing advanced attack and threat protection features such as stream segmentation and packet anomaly protection, TCP split handshake protection, IP and RPC defragmentation, FTP evasion protection, as well as URL and HTML decoding, the Barracuda Firewall X100 is able to identify and block advanced evasion attempts and obfuscation techniques that are used by attackers to circumvent and trick traditional intrusion prevention systems.
As part of the Barracuda Energize Updates subscription, automatic signature updates are delivered on a regular schedule or on an emergency basis to ensure that the Barracuda Firewall is constantly up-to-date.
Quality of Service (QoS) and Traffic Prioritization
Granular QoS settings enable an organization to set bandwidth policies for applications, services, and users. In addition, traffic prioritization can be set to ensure that latency-sensitive or business-critical applications are always given priority. Pre-built policies enable organizations to immediately begin implementing one of eight pre-defined bandwidth policies. Pre-defined policies can easily be customized to individual customer needs.
Advanced Threat Detection
The Barracuda Firewall X100 provides advanced malware protection capabilities through multiple layers of scanning in the cloud for inbound and outbound threats. The anti-malware engine is powered by threat intelligence gathered from multiple sources of data including data sharing partnerships, commercial security data, real-time email, and web scans from more than 150,000 data sensors worldwide. Antivirus signatures are continuously updated to provide rapid response to new and known security threats. Additionally, unknown and emerging web-based viruses and spyware are detected using object-based techniques and advanced heuristics. The service also protects against malicious web applications and script-based attacks through AJAX-aware analysis and sandboxing. HTTP-focused behavior analysis and intrusion detection are used to block botnet communication, spyware, and rogue viruses.
Real-Time Updates
Barracuda's 24×7 threat operations center analyzes the latest emerging web-based malware and provides real-time updates. This provides zero-hour response time to fast moving, aggressive web threats with no need to maintain up-to-date signature databases on-premises.
High-Performance Malware and Virus Scanning
Malware scanning is a CPU-intensive operation with a significant performance impact when paired with network packet processing operations on the firewall. By leveraging the cloud for the heavy lifting, the Barracuda Firewall X100 maintains high throughput levels when forwarding packets, handling VPN connections, regulating application traffic, and preventing network intrusions. Even the smaller Barracuda Firewall units for branch offices benefit from the full power of the cloud and are able to scale easily with increasing traffic volumes.
User Awareness
The Barracuda Firewall authenticates users with Active Directory, NTLM, LDAP/LDAPS, RADIUS, and x.509 digital certificates. User- and group-specific policies, including time-based access controls, are integrated into the firewall rules, making it easy for administrators to customize network access, application usage, and bandwidth allocation for specific users and groups.
Cloud-Based URL Filtering and Reporting
Barracuda Firewalls can be easily configured to transparently redirect web traffic tagged with user identity information to the cloud-based Barracuda Web Security Service. Administrators can use a central management portal to configure user/group-based content filtering rules across 95 content categories. Administrators can block, accept, warn, or log access to domains along with advanced policies such as "safe search" enforcement on search engines, YouTube for Schools integration, HTTPS filtering, and domain whitelisting/blacklisting. In addition, the service leverages the elasticity and scalability of the cloud to provide more than 50 reports on all aspects of Internet browsing without any on-premises storage and performance limitations.
Cloud-Based Central Management
Barracuda Firewall X100 are integrated with the Barracuda Cloud Control (BCC) web-based management portal, which leverages Barracuda's global cloud infrastructure to enable organizations to centrally manage all their devices through a "single pane of glass" interface. Administrators have a global view of all their devices, as well as the ability to centrally manage policies and configuration. The intuitive interface makes it easy for small and medium-sized organizations to implement and manage their firewalls with minimal IT overhead.
One Stop for Firewall Rules
The intuitive interface is designed so that a single configuration encompasses every component of a firewall rule. This includes link balancing and QoS configurations necessary to ensure uptime and full control of network traffic. A drag-and-drop interface enables quick-and-easy prioritization of rules.
Powerful Object-Oriented Design
The Barracuda Firewall provides organizations with the ability to aggregate devices, services, and users into management objects. These objects can contain references to other objects, creating a cascading and instantaneous impact across the network when network requirements change.
The power of objects is available to an organization the moment a Barracuda Firewall is deployed. A library of network, device, and user objects are pre-packaged for immediate use, or objects can be created to aggregate the ones that are already predefined on the unit.
Link Optimization and Failover
To ensure the best and most cost-efficient connectivity, the Barracuda Firewall X100 provides a wide range of built-in uplink options including unlimited leased lines, up to six DHCP, four xDSL, up to two ISDN and a UMTS lines. Administrators can bond multiple low-cost WAN links such as DSL lines to increase bandwidth at reduced costs. Further, by eliminating the need to purchase additional devices for uplink balancing, security-conscious customers will have access to a WAN connection; even if one or two of the existing WAN uplinks are severed.
Inbound Link Balancing
The Barracuda Firewall X100 performs inbound link balancing by distributing inbound traffic across multiple links, leveraging its authoritative DNS services. This ensures that the Authoritative DNS server always provides the IP address of the best link when responding to DNS queries.
3G Connectivity
The Barracuda 3G/UMTS Modem provides support for wireless third-generation broadband communication using 3G technologies. This is ideal for remote sites that need a cost-effective, rapidly deployable, and ultra-reliable WAN backup solution to protect it from outages caused by cable or fiber link outages.
It can also serve as a high-quality and cost-effective alternative to traditional uplinks such as DSL, ISDN, and cable lines. The Barracuda 3G/UMTS Modem is suitable as a primary link for temporary sites, in-vehicle deployments, or for businesses requiring connectivity in areas with weak infrastructure such as construction sites, remote areas, mobile businesses, or trade shows.
Guest Networking
Barracuda Firewall X100 provides two options to set up guest access to the internet. Both options are available for locally attached networks as well as for Wi-Fi networks on the Barracuda Firewall X101 and X201 appliances.
Confirmation Page: The confirmation page option prompts guests to agree to a configurable Terms of Service page before they can access the network. Guests are subsequently tracked with the assigned IP address since no user information is available.
Guest Ticketing: The guest ticketing option will display a customizable logon page asking for user and passcode as set up on an admin website served by the Barracuda Firewall. Guests are subsequently tracked with their assigned username.
SSL VPN
Barracuda Firewalls X200 and higher provide VPN capabilities that can be used from within a web browser, the so called SSL VPN. Unlike traditional client-to-site VPN, SSL VPN does not require the installation of client software on the end user's computer. Use SSL VPN to grant remote users access to web applications, client and server applications, as well as internal network resources like Outlook Web Access, SMB, RDP, Telnet, SSH, SMTP, POP3, VNC, IMAP4, webDAV, and HTTP and HTTPS web forwards.
SSL VPN is available at no additional cost for an unlimited amount of users for Barracuda Firewall X200 and higher.
Client-to-Site VPN
The Barracuda Firewall X100 provides support for a suite of protocols to connect remote employees. The appliance supports IPsec-based VPN, PPTP, and the Barracuda Network Access VPN client. The VPN tunnel can be authenticated using a comprehensive set of mechanisms including NTLM, RADIUS, LDAP/LDAPS, Active Directory, and Local Authentication. Barracuda Networks provides VPN clients for Windows, Mac OS X, Linux, and Debian–downloadable right from the user interface.
Site-to-Site Connectivity
IPsec VPNs ensure secure connectivity to other remote sites or a centralized office. Barracuda includes unlimited site-to-site licenses to connect as many sites as needed to the Barracuda Firewall.
Simple Pricing
The Barracuda Firewall X100 is delivered with all features and capabilities fully enabled. Content filtering and advanced malware protection is offered as an all-inclusive subscription without any per-user fees. The Barracuda Cloud Control management portal is included free of charge.
Barracuda Firewall X100 / X101
Interface
Copper Ethernet NICs
4×1 GbE
USB 2.0
2
Serial / console
1 [RJ45]
VGA interface
1
Performance (as of firmware release 6.1.X)
Firewall throughput with Application Detection (AppDetect) 1
800 Mbps
Firewall throughput with AppDetect & IPS 2
100 Mbps
VPN throughput 3
100 Mbps
Max. concurrent sessions
8,000
Max. new sessions/s
2,000
Memory
RAM
2,048 MB
Mass Storage
Type
SSD
Size
40 GB
SSD MTBF
1,200,000 hours
Dimensions
Weight appliance
2.3 kg
Weight carton with appliance
4.3 kg
Appliance size: width x depth x height
272 x 195 x 44 mm
Carton size: width x depth x height
430 x 303 x 166 mm
Weight appliance
5.1 lbs.
Weight carton with appliance
9.5 lbs.
Appliance size: width x depth x height
10.7 x 7.7 x 1.7 in
Carton size: width x depth x height
16.9 x 11.9 x 6.5 in
Form factor
Desktop
Hardware
Cooling
Low-noise fan
Power supply
Single, external
Environmental
Noise emission
< 47 db/A
Operating temperature
0 to +40 °C
Storage temperature
-20 to +70 °C
Operating humidity
5% to 95% non-condensing
MTBF [System]
MTBF
> 5 years
Certifications & Compliance
CE emissions
Yes
CE electrical safety
Yes
UL compliant
Yes
FCC emissions
Yes
ROHS compliant
Yes
Power & Efficiency
Power supply type
External brick
Power type [AC/DC]
AC
Input rating
100 – 240 Volts
Input frequency
47 – 63 Hz
Auto sense
Yes
Wattage / max. power draw
45 W
Max. power draw
1.6 Amps.
Max. heat dissipation
36 W
Max. heat dissipation
123 BTU
Energy efficiency [average]
> 80%
Packaging Content
Appliance
Yes
Straight network cable
Yes
External power brick & cables
Yes
Quick start guide
Yes
Wireless antenna
Yes, for X101 only
1 Measured with large packets with bidirectional flows through multiple port pairs.
2 Measured with typical IMIX traffic found at the Internet gateway.
3 Measured with AES-128 encryption.
Dalam konteks fungsi Remote Access, Barracuda Firewall dapat dengan mudah terintegrasi ke dalam jaringan lokal Anda karena dilengkapi dengan semua peralatan yang diperlukan untuk mengintegrasikan ke dalam layanan otentikasi eksternal serta klien akses remote untuk Windows, Mac OS X, dan Linux. Barracuda Firewall menyediakan akses remote untuk perangkat berbasis Android dan yang berbasis iOS melalui fungsi VPN built-in yang dimiliki oleh perangkat – perangkat mobile tersebut. Bahkan, untuk perangkat Barracuda Firewall X200 dan seri yang lebih tinggi menyediakan kemampuan VPN SSL tanpa ada aplikasi client khusus sehingga tidak akan ada biaya tambahan.
Untuk tujuan manajemen, Barracuda Firewall dapat diakses langsung melalui antarmuka berbasis web secara lokal atau jarak jauh melalui Barracuda Cloud Control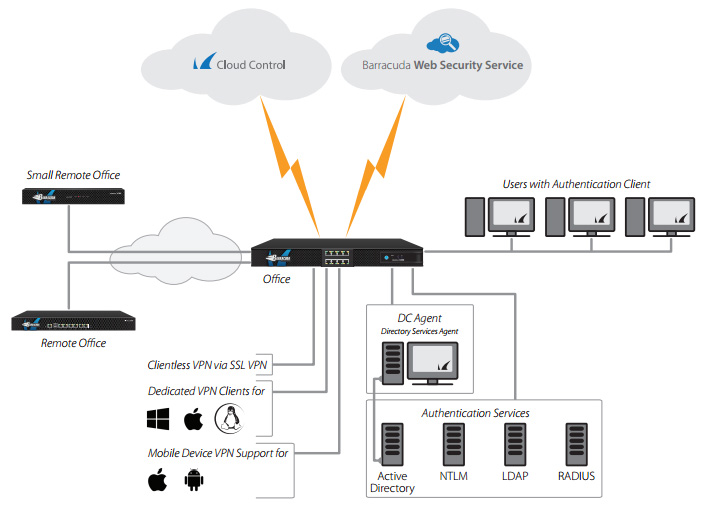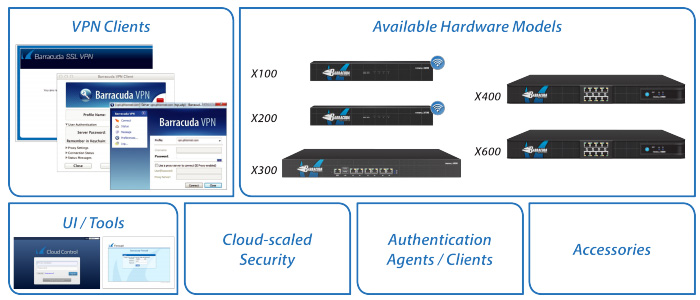 Empty tab. Edit page to add content here.